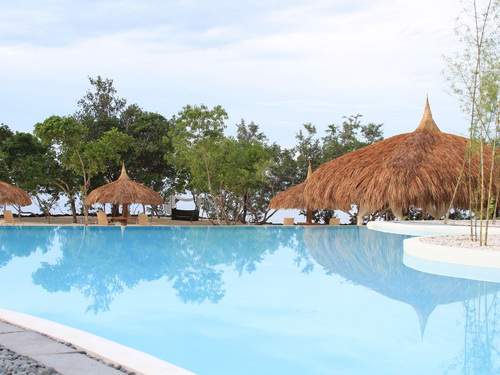 Bluewater Panglao Beach Resort
Room Features
Air Conditioning
Hot and Cold Shower
LCD Cable TV
Bathtub
Minibar
Telephone
Ipod Dock Speakers
Coffee and Tea Making Facilities
Veranda
Resort Map
Premiere Deluxe Room
Air Conditioning
Hot and Cold Shower
Cable TV
Minibar
Ipod Dock
Telephone
Coffee and Tea Making Facility
Balcony
Bathtub
1 King Sized Bed OR
2 Queen Sized Beds
Good for 2 Guests
Family Loft
Air Conditioning
Hot and Cold Shower
LCD Cable TV
Minibar
Ipod Dock
NDD/IDD Telephone
Coffee Tea Making Facility
Small Living Area
Veranda
1 King Sized Bed AND
2 Queen Sized Beds (Loft)
Good for 4 Guests
One Bedroom Villa
Air Conditioning
Hot and Cold Shower
LCD Cable TV
Minibar
Ipod Dock
NDD/IDD Telephone
Balcony
Small Living Area
Private Dipping Pool
1 King Sized Bed
Good for 2 Guests
Two Bedroom Villa
Air Conditioning
Hot and Cold Shower
LCD Cable TV
Minibar
Ipod Dock
NDD/IDD Telephone
Living Area
Private Dipping Pool
1 King Sized Bed AND
2 Queen Sized Beds (Loft)
Good for 4 Guests
ROOMS & PRICES
Breakfast Included
Room Type
Low Season
High Season
Peak Season
December 20-January 10
April 13-April 16
January 28-January 31
May 01-May 05

Premiere Deluxe Room
PHP 9,760.00
PHP 9,760.00
PHP 11,760.00
Family Loft
PHP 18,300.00
PHP 18,300.00
PHP 20,300.00
One Bedroom Villa
PHP 18,300.00
PHP 18,300.00
PHP 20,300.00
Two Bedroom Villa
PHP 29,280.00
PHP 29,280.00
PHP 31,280.00
Please choose your room and dates :



A minimum of 2 nights stay is required.
All bookings that include December 24 (Christmas Eve) and December 31 (New Year's Eve) will be subject to a mandatory hotel sponsored Gala Dinner. Guests can settle this directly with the hotel upon arrival.
Please email us at [email protected] for more details.

More Hotel Details:
Bluewater Panglao Beach Resort was built in 2011 and has a total of 54 elegantly appointed guest rooms and villas. The total area of this property is approximately 6 hectares.

Location:
Bluewater Panglao Beach Resort is located in Danao Beach, Panglao Island, Bohol. It is approximately 20 kilometers or 45 minutes away from Tagbilaran airport.

Inclusive
Complimentary daily buffet breakfast.
Welcome drinks and cold towels.
Free use of non-motorized water sports facilities.

Children and Extra Beds:
Children 11 years old and below are free of charge sharing existing bedding exclusive of breakfast.

Internet:
Bluewater Panglao Beach Resort has free Wi-Fi internet service in the rooms and other areas in the resort.

Check-in/Checkout Time:
Check-in time is 3:00 PM and checkout time is 11:00 AM.

Transfers:
Bluewater Panglao Beach Resort has complimentary round-trip seaport or airport transfers.

Special Hotel Room Amenities:
There is a safety deposit box in each room.