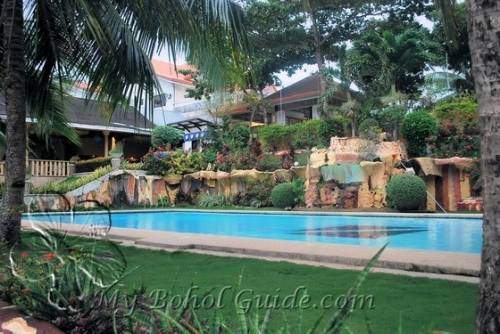 Bohol Divers Resort
Room Features
Air Conditioning
Hot and Cold Shower
Refrigerator
Cable TV
Balcony
Outdoor Seating Area
Voltage 220/240
Resort Map
Chateau B
Air Conditioning
Shower
Refrigerator
Cable TV
Balcony
2 Single Beds
Good for 2 Guests
Chateau A
Air Conditioning
Shower
Refrigerator
Cable TV
Small Living Area
Balcony
1 Queen Size Bed
Good for 2 Guests
Cella
Garden View
Apartment Type
Air Conditioning
Hot and Cold Shower
Cable TV
Balcony
Outdoor Seating Area
2 Double Beds
Good for 2 Guests
La Residencia
Apartment Type
Air Conditioning
Fronting the Pool
Balcony
Outdoor Seating Area
Garden View
Pool View
Spacious Toilet with Bathtub
Hot and Cold Shower
Kitchen
Refrigerator
Mineral Water Dispenser
Cable TV
Small Living Area
2 Queen Size Beds
Good for 4 Guests
ROOMS & PRICES
| Room Type | Low Season | High Season | Peak Season |
| --- | --- | --- | --- |
| | | October 01-May 31 | December 23-January 06 |
| Chateau B | PHP 2,500.00 | PHP 2,500.00 | PHP 2,500.00 |
| Chateau A | PHP 2,800.00 | PHP 2,800.00 | PHP 2,800.00 |
| Cella | PHP 2,800.00 | PHP 2,800.00 | PHP 2,800.00 |
| La Residencia | PHP 5,000.00 | PHP 5,000.00 | PHP 5,000.00 |
Please choose your room and dates :

More Hotel Details:
Bohol Divers Resort was built in 1984 and renovated in 2008. It has a total of 50 rooms.

Location:
Bohol Divers Resort is located in Tawala, Panglao, Bohol where the dolphin and whale watching area is just a few minutes away.

Breakfast types available:
Additional buffet breakfast is available at PHP 300.00 per adult and half price for children 8 years old and below.

Children and Extra Beds:
One child 5 years old or below is free sharing existing bedding.

Internet:
Bohol Divers Resort has free Wi-Fi internet service in the main lounge area.

Check-in/Checkout Time:
Check-in time is at 2:00 PM and checkout time is at 12:00 Noon.

Transfers:
One Way Car Transfer (Good for 1-4 guests) PHP 600.00 / Van Transfer (Good for 5-9 guests) PHP 800.00 / Coaster Transfer (Good for 10-20 guests) PHP 1,800.00 / Bus Transfer (Good for 21-50 guests) PHP 5,000.00.

Special Hotel Room Amenities:
There are safety deposit boxes in the resort office.

Pets:
Pets are allowed in this property.

Security Deposit:
An incidental deposit of PHP 500.00 is required upon check-in. This will be refunded back upon checkout based on room inspection.