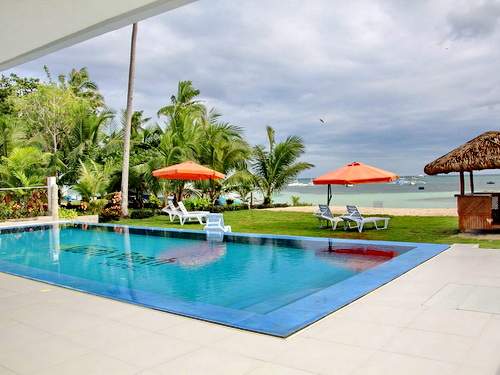 Bohol South Beach Hotel
Room Features
Air Conditioning
Hot and Cold Shower
Minibar
32 inch Satellite LED TV
Computer Desk
Balcony
Ocean View
Resort Map
Deluxe Room 1st Floor
Air Conditioning
Hot and Cold Shower
32-inch Satellite LED TV
Minibar
Wi-Fi Internet Access
Computer Desk
Direct Pool Access
Oceanview
1 Queen Size Bed
Good for 2 Guests
Deluxe Room 2nd Floor
Air Conditioning
Hot and Cold Shower
32-inch Satellite LED TV
Minibar
Wi-Fi Internet Access
Computer Desk
Balcony with seaview
1 Queen Size Bed
Good for 2 Guests
Family Suite 2nd Floor
Air Conditioning
Hot and Cold Shower
32-inch Satellite LED TV
Minibar
Wi-Fi Internet Access
Computer Desk
Balcony with seaview
2 Bedrooms
2 Queen Size Beds
Good for 4 Guests
ROOMS & PRICES
Room Type
Low Season
High Season
Peak Season
September 01-May 31

December 20-January 03
January 25-February 15
April 05-April 20

Deluxe Room 1st Floor
PHP 3,459.00
PHP 5,065.00
PHP 5,559.00
Deluxe Room 2nd Floor
PHP 4,077.00
PHP 5,930.00
PHP 6,300.00
Family Suite 2nd Floor
PHP 6,300.00
PHP 8,030.00
PHP 9,265.00
Please choose your room and dates :


More Hotel Details:
Bohol South Beach Hotel was built in the summer of 2012 consisting of 3 floors. The hotel offers 3 Ocean View Deluxe rooms on the 1st Floor, 2 Ocean View Deluxe rooms on the 2nd Floor, and 1 Ocean View Family Suite on the 2nd floor.

Location:
Bohol South Beach Hotel is located in Danao Beach, the south coast of Panglao Island. It is 16 kilometers from the Totolan causeway and approximately 25 minutes away from Tagbilaran by car.


Breakfast types available:
Breakfast is included in the room rates. Filipino, American and Continental set breakfast are served daily.

Children and Extra Beds:
Children 6 years old and below are free of charge sharing existing bedding.

Internet:
Bohol South Beach Hotel has free Wi-Fi internet service in the rooms, lobby, poolside, roof deck bar and restaurant area.

Check-in/Checkout Time:
Check-in time is at 2:00 PM and checkout time is at 12:00 Noon.

Transfers:
Round-trip Van Transfer (good for 1-4 guests) PHP 1,200.00

Special Hotel Room Amenities:
There is a safety deposit box and a hair dyer in each room.

Resort Policies:
For bookings from September 01 - October 31, 2017, different rates will apply. Please emailat [email protected] for more details.