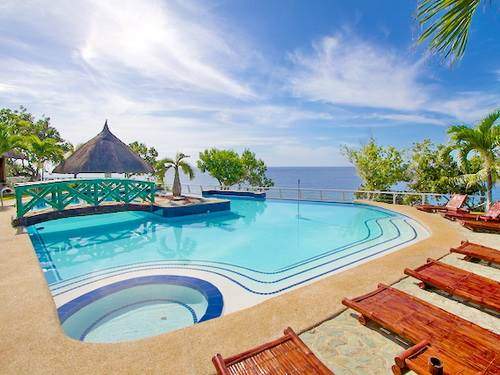 Cliffside Resort
Room Features
Air Conditioning
Electric Fan
Hot and Cold Shower
WiFi Internet Access
LCD Cable TV
DVD Player
Minibar
Safety Deposit Box
Seaview
Resort Map
Standard Room
Seaview
Air Conditioning
Electric Fan
Hot and Cold Shower
WiFi Internet Access
Pool Side
1 Queen Sized Bed AND
1 Single Bed
Good for 3 Guests
Maximum 4 Guests
Deluxe Room
Seaview
Air Conditioning
Electric Fan
Hot and Cold Shower
WiFi Internet Access
LCD Cable TV
DVD Player
Minibar
In-Room Safe
Pool Side
1 Queen Sized Bed AND
1 Single Bed
Good for 3 Guests
Maximum of 4 Guests
ROOMS & PRICES
| Room Type | Low Season | High Season | Peak Season |
| --- | --- | --- | --- |
| | | October 15-May 31 | January 30-February 08 |
| Standard Room | PHP 3,250.00 | PHP 3,250.00 | PHP 3,250.00 |
| Standard Room (4 Guests) | PHP 3,839.00 | PHP 3,839.00 | PHP 3,839.00 |
| Deluxe Room | PHP 4,550.00 | PHP 4,550.00 | PHP 4,550.00 |
| Deluxe Room (4 Guests) | PHP 5,139.00 | PHP 5,139.00 | PHP 5,139.00 |
| Seaview Suites | PHP 6,500.00 | PHP 6,500.00 | PHP 6,500.00 |
Please choose your room and dates :

More Hotel Details:
Cliffside Resort was built in 2007 and was recently renovated in 2013. The resort has a total of 13 rooms consisting of 2 Standard rooms, 7 Deluxe rooms and 4 Suites.

Location:
Cliffside Resort is located in Hoyohoy, Tawala just next to Tarsier Botanica, Panglao Bohol. It is just a 15-minute drive from Alona beach.

Breakfast types available:
Breakfast is not included in the room rates. A choice of American, Continental and Filipino set breakfast is available ranging from PHP 170.00 to PHP 220.00 per person.

Children and Extra Beds:
Children 3 years old and below are free of charge sharing exisiting bedding.

Internet:
Cliffside Resort has free Wi-Fi internet service in all the rooms and public areas.

Check-in/Checkout Time:
Check-in time is at 2:00 PM and checkout time is at 12:00 Noon.

Transfers:
One Way Car Transfer (Good for 1-4 guests) PHP 650.00 / Van Transfer (Good for 5-10 guests) PHP 750.00.

Special Hotel Room Amenities:
There is a safety deposit box in each room.