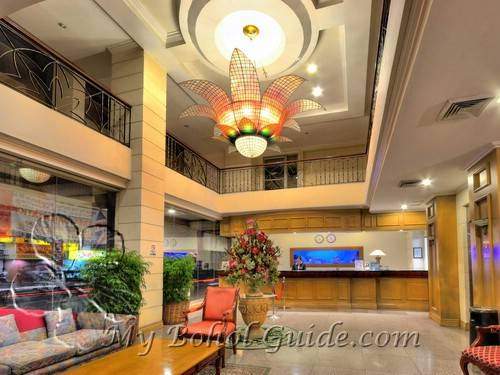 Metro Centre Hotel
Room Features
Air Conditioning
Hot and Cold Shower
Minibar
Cable TV
IDD/NDD Telephone Facilities
Key Card Security
Complimentary Bottled Water
Jacuzzi on Presidential Suite
Slippers
Voltage 220/240
Resort Map
Standard Room
Air Conditioning
Minibar
Cable TV
IDD/NDD Telephone Facilities
Hot and Cold Shower
Key Card Security
2 Single Beds OR
1 Double Bed
Good for 2 Guests
Superior Room
Air Conditioning
Minibar
Cable TV
IDD/NDD Telephone Facilities
Hot and Cold Shower
Key Card Security
Glass Paneled Windows
With City or Sea View
2 Single Beds OR
1 Double Bed
Good for 2 Guests
Family Room
Air Conditioning
Minibar
Cable TV
IDD/NDD Telephone Facilities
Hot and Cold Shower
Key Card Security
1 Double Bed AND
1 Single Bed
Good for 2 Guests
Maximum of 4 Guests
Penthouse Suite
Air Conditioning
Minibar
Coffee and Tea
Cable TV
IDD/NDD Telephone Facilities
Hot and Cold Shower
Bathtub
Hair Dryer
Key Card Security
Glass Paneled Windows
With City or Sea View
Fully Furnished Receiving Area
Dining Area
Separate Bedroom
2 Single Beds OR
1 Double Bed
Good for 2 Guests
Presidential Suite
Air Conditioning
Minibar
Coffee and Tea
Cable TV
IDD/NDD Telephone Facilities
Hot and Cold Shower
Jacuzzi
Hair Dryer
Key Card Security
Glass Paneled Windows
Balcony
With Panoramic City or Sea View
Fully Furnished Receiving Area
Dining Area
Separate Bedroom
1 King Size Bed
Good for 2 Guests
ROOMS & PRICES
Breakfast Included
Room Type
Low Season
High Season
Peak Season
October 16-March 31

April 12-April 16
December 23-January 03

Standard Room
PHP 2,137.00
PHP 2,137.00
PHP 2,137.00
Superior Room
PHP 2,843.00
PHP 2,843.00
PHP 2,843.00
Family Room
PHP 4,504.00
PHP 4,504.00
PHP 4,504.00
Family Room (3 Guests)
PHP 4,716.00
PHP 4,716.00
PHP 4,716.00
Family Room (4 Guests)
PHP 4,928.00
PHP 4,928.00
PHP 4,928.00
Penthouse Suite
PHP 6,339.00
PHP 6,339.00
PHP 6,339.00
Presidential Suite
PHP 9,516.00
PHP 9,516.00
PHP 9,516.00
Please choose your room and dates :

More Hotel Details:
Metro Centre Hotel was built in 1998 and was recently renovated in 2014. The hotel has a total of 18 Standard, 16 Superior, 11 Deluxe, 4 Deluxe Double, 2 Family rooms, 4 Penthouse and 1 Presidential Suite.

Location:
Metro Centre Hotel is located in C.P.G. Avenue, Tagbilaran City, Bohol. It is approximately 10 minutes away from the airport.

Breakfast types available:
Breakfast is included in the room rates. Additional choice of American or Filipino set breakfast starts from PHP 225.00 per person.

Children and Extra Beds:
Maximum of 2 children 11 years old and below are still free of charge, sharing existing bedding, and exclusive of breakfast.

Internet:
Metro Centre Hotel has free Wi-Fi internet service in the restaurant and lobby area only.

Check-in/Checkout Time:
Check-in time is at 2:30 PM and checkout time is at 12:00 Noon.

Transfers:
Metro Centre Hotel has complimentary round-trip seaport or airport transfers. Request for airport or seaport shuttle service outside the schedule will be subject to availability of hotel vehicle at an additional cost.

Special Hotel Room Amenities:
Safety deposit boxes and hair dryers are available in selected rooms only.