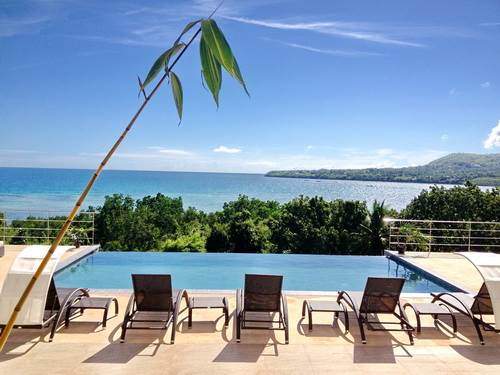 Ocean Suites Bohol Boutique Hotel
Room Features
Air Conditioning
Hot and Cold Shower
Wi-Fi Internet Access
Minibar
Bathtub (In Pool Level Rooms)
LCD Cable TV
Balcony
Seaview
Resort Map
Standard Room
Air Conditioning
Hot and Cold Shower
Wi-Fi Internet Access
Minibar
LCD Cable TV
1 Double Bed OR
2 Single Beds
Good for 2 Guests
Superior Room
Air Conditioning
Hot and Cold Shower
Wi-Fi Internet Access
Minibar
LCD Cable TV
Balcony
2 Single Beds
Good for 2 Guests
Deluxe Ocean Suite
Air Conditioning
Hot and Cold Shower
Wi-Fi Internet Access
Minibar
LCD Cable TV
Balcony
Seaview
2 Double Beds
Good for 2 Guests
Deluxe Pool Access
Air Conditioning
Hot and Cold Shower
Wi-Fi Internet Access
Minibar
LCD Cable TV
Terrace
1 Queen Sized Bed OR
2 Single Beds
Good for 2 Guests
Premier Ocean Suite
Air Conditioning
Hot and Cold Shower
Wi-Fi Internet Access
Minibar
LCD Cable TV
Balcony
Seaview
2 Double Beds
Good for 4 Guests
Premier Pool Access
Air Conditioning
Hot and Cold Shower
Wi-Fi Internet Access
Minibar
LCD Cable TV
Terrace
2 Double Beds
Good for 4 Guests
Family Room
Air Conditioning
Hot and Cold Shower
Wi-Fi Internet Access
Minibar
Bathtub
LCD Cable TV
Balcony
2 Double Beds and
1 Single Bed OR
6 Single Beds
Good for 4 Guests
Family Ocean Suite
Air Conditioning
Hot and Cold Shower
Wi-Fi Internet Access
Minibar
Bathtub
LCD Cable TV
Balcony
Seaview
2 Double Beds and
2 Single Beds OR
2 Double Beds and
1 Sofa Bed
Good for 6 Guests
ROOMS & PRICES
Breakfast Included
Room Type
Low Season
High Season
Peak Season
October 01-May 31

December 28-January 01
April 13-April 16

Standard Room
PHP 3,320.00
PHP 3,320.00
PHP 3,320.00
Superior Room
PHP 3,558.00
PHP 3,558.00
PHP 3,558.00
Deluxe Ocean Suite
PHP 4,744.00
PHP 4,744.00
PHP 4,744.00
Deluxe Pool Access
PHP 5,337.00
PHP 5,337.00
PHP 5,337.00
Premier Ocean Suite
PHP 6,878.00
PHP 6,878.00
PHP 6,878.00
Premier Pool Access
PHP 7,116.00
PHP 7,116.00
PHP 7,116.00
Family Room
PHP 7,116.00
PHP 7,116.00
PHP 7,116.00
Family Ocean Suite
PHP 8,302.00
PHP 8,302.00
PHP 8,302.00
Please choose your room and dates :


Different rates shall apply during Peak Season. Please email us at [email protected] for more details.

More Hotel Details:
Ocean Suites Bohol Boutique Hotel was recently built in January 2014 with a total of 14 rooms.

Location:
Ocean Suites Bohol Boutique Hotel is located directly in Blood Compact Monument, Tagbilaran, Bohol. It is approximately 15-20 minutes away from Tagbilaran airport.

Breakfast types available:
Breakfast is included in the room rates. Additional choice of Continental, Filipino or International breakfast is at PHP 200.00 per person.

Children and Extra Beds:
Children 12 years old and below are free of charge sharing existing bedding.

Internet:
Ocean Suites Bohol has free Wi-Fi internet service in each room.

Check-in/Checkout Time:
Check-in time is at 2:00 PM and checkout time is at 12:00 Noon.

Transfers:
Ocean Suites Bohol Boutique Hotel offers airport or seaport transfers at an additional cost.

Special Hotel Room Amenities:
Hair dryers are available upon request only.