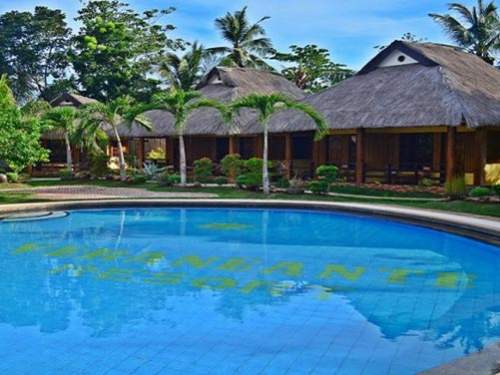 Veraneante Resort Bohol
Room Features
Air Conditioning
Hot and Cold Shower
LCD Cable TV
Minibar
Wi-Fi Internet Access
Resort Map
Deluxe Duplex
Air Conditioning
Hot and Cold Shower
LCD Cable TV
Minibar
Wi-Fi Internet Connection
Pool Side
Private Lanai
Outside Seating Area
1 Double Bed
Good for 2 Guests
Maximum of 4 Guests
Superior Duplex
Air Conditioning
Hot and Cold Shower
LCD Cable TV
Minibar
Wi-Fi Internet Connection
Pool Side
Outside Seating Area
1 Double Bed AND
1 Single Bed with Pull-out Bed
Good for 3 Guests
Maximum of 4 Guests
Premium Cabana
Air Conditioning
Hot and Cold Shower
LCD Cable TV
DVD Player
Minibar
Wi-Fi Internet Connection
Pool Side
Private Lanai
Outside Seating Area
1 Queen Sized Bed
Good for 2 Guests
Maximum of 4 Guests
ROOMS & PRICES
Breakfast Included
| Room Type | Low Season | High Season | Peak Season |
| --- | --- | --- | --- |
| | | | December 01-May 31 |
| Deluxe Duplex | PHP 2,200.00 | PHP 2,200.00 | PHP 2,400.00 |
| Deluxe Duplex (3 Guests) | PHP 2,730.00 | PHP 2,730.00 | PHP 2,930.00 |
| Deluxe Duplex (4 Guests) | PHP 3,259.00 | PHP 3,259.00 | PHP 3,459.00 |
| Superior Duplex | PHP 2,500.00 | PHP 2,500.00 | PHP 2,700.00 |
| Superior Duplex (4 Guests) | PHP 3,030.00 | PHP 3,030.00 | PHP 3,230.00 |
| Premium Cabana | PHP 2,700.00 | PHP 2,700.00 | PHP 2,900.00 |
| Premium Cabana (3 Guests) | PHP 3,230.00 | PHP 3,230.00 | PHP 3,430.00 |
| Premium Cabana (4 Guests) | PHP 3,759.00 | PHP 3,759.00 | PHP 3,959.00 |
Please choose your room and dates :


More Hotel Details:
Veraneante Resort Bohol was built in 2012. The resort has a total of 11 rooms consisting of 2 Deluxe Duplex, 4 Superior Duplex, 1 Premium Cabana and 4 Family Rooms.

Location:
Veraneante Resort Bohol is located in Barangay Looc, Panglao. The resort is about 20-30 minutes away from Tagbilaran City by car.

Breakfast Types Available:
Breakfast is included in the room rates. Additional choice of Filipino or American set breakfast is available at PHP 190.00 per person, applicable for both adults and children.

Children and Extra Beds:
Children 7 years old and below are free of charge sharing existing bedding.

Internet:
Veraneante Resort Bohol has free Wi-Fi internet service in public areas only.

Check-in/Checkout Time:
Check-in time is at 2:00 PM and checkout time is at 12:00 Noon.

Transfers:
Veraneante Resort Bohol offers complimentary round-trip seaport or airport transfers.

Free Airport or Seaport Transfer Schedules:
Seaport or Airport to Verneante Resort - anytime from 9 AM to 5 PM as long as informed at least 24 hours before arrival
Veraneante Resort to Seaport or Airport – 12:00 NN only upon checkout

Free Shuttle Schedules:
Veraneante Resort to Alona Beach – 5:00 PM daily
Alona Beach to Veraneante Resort – 9:00 PM daily

Special Hotel Room Amenities:
Safety deposit boxes and hair dryers are available upon request only.